WILD GROWTH, EXHIBITION BY ANA KUZMANIĆ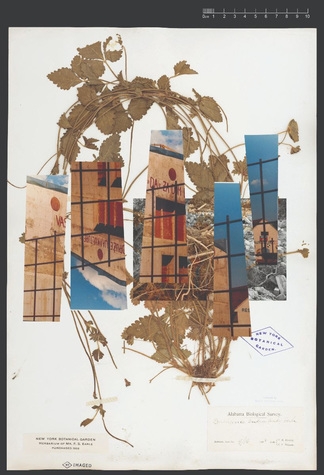 November 25 — December 20 2022
Working hours:
Tuesday – Friday: 4 p.m. — 8 p.m.
Saturday and Sunday: 11 a.m. — 3 p.m.
opening: Friday, November 25 at 7 p.m.
Exhibition "Wild Growth" is based on exploring abandoned land sites in Trešnjevka, lots between demolition and construction, where artist Ana Kuzmanić found over 100 different species of self-seeding plants. A part of them belongs to the category of so-called native plant species, but the majority is considered invasive or foreign. The artist presents 18 collages featuring herbarium images of plants that grew on the land site of the former silk factory in Adžijina Street and documentary photographs she took at that location immediately after the demolition of the remains of the factory. These are combined with the chosen artifacts from the virtual collection of the Trešnjevka Neighborhood Museum, an archive containing contributions by the neighborhood residents, thus recording the history of its construction and modernization, but also socialization and everyday life.
Curator and organizer: Ana Kutleša / BLOK
Exhibition and display cases design: Roberta Bratović and Nina Bačun / OAZA
Promotional materials design: Zoran Đukić, Hrvoje Živčić, and Neva Zidić
photo: Luka Pešun
We thank the Multimedia Institute for lending us their display cases.
Ana Kuzmanić (1980, Split) graduated from the Academy of Fine Arts in Zagreb, and received her Master's degree from the Edinburgh College of Art, University of Edinburgh. She is one of the founders and a member of the international collective Eastern Surf. Since 2009, she has worked as a teaching assistent at the Faculty of Civil Engineering, Architecture, and Geodesy, University of Split. In her work, Ana focuses of everyday lives of people, exploring questions related to collectiveness, possibilites of joint work, pedagogy, and education of the young. For her work, she has received several awards including the Radoslav Putar Award in 2018 and the Visual Art Award from the City of Edinburgh Council in 2012.
The exhibition is part of the project " Trešnjevka Neighborhood Museum – live heritage", financially supported by the Croatian Ministry of Culture and Media and the City of Zagreb. BAZA's annual program is supported by the Kultura Nova Foundation.