PAPER THAT HEALS: PAPER COLLAGE AND WORDS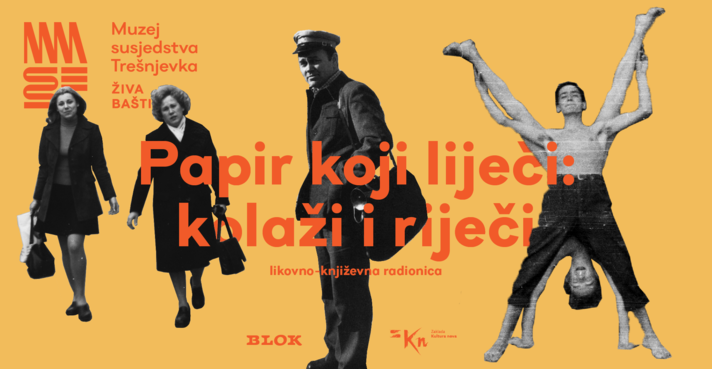 Apply for a free art and literature workshop led by Olja Savičević Ivančević and Božena Končić Badurina, which will take place on Tuesdays at 6 p.m. in New BAZA (Nova cesta 66). The workshop is held in the period from March 28 until April 25, 2023.
This workshop, entirely free of charge, is intended for persons of all ages, with any level of experience in creative writing and artistic expression, and especially for those who have not had the opportunity to participate in any kind of art education. We will meet five times for three hours to look into ''the healing power of paper'', in other words, we will be working on short prose forms, poetry, and the paper collage technique. The inspiration for our work will be the following terms: ''work, non-work, leisure, health''. Our starting point are our experiences, experiences of people around us, as well as those preserved in the virtual collection of the Trešnjevka Neighborhood Museum.
Applications should be sent to BLOK@BLOK.HR by WEDNESDAY, MARCH 23, 2023 at the latest, containing the following data: name, last name, date of birth, and a short motivation letter in which you can state what you currently do and what motivated you to apply. The connection with Trešnjevka (former or current place of residence, workplace, family connection) is not crucial but it is an advantage. The number of participants is limited, and you will receive information about participation via email.
The results of the workshop held last year can be seen in the workshop fanzine.
DESIGN: Zoran Đukić, Hrvoje Živčić i Neva Zidić
PHOTO: Luka Pešun
Program is financed by the "KULTURA NOVA" FOUNDATION. BAZA'S ANNUAL PROGRAM IS SUPPORTED BY THE ''KULTURA NOVA'' FOUNDATION.