INTERNATIONAL AWARD FOR OUR CURATORIAL TEAM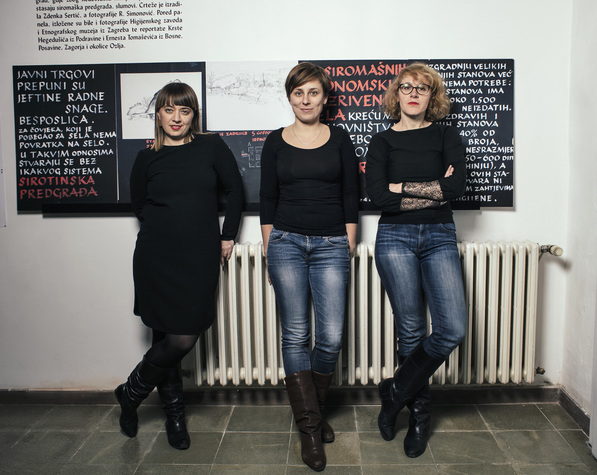 The German foundation Hans and Lea Grundig has awarded BLOK's curatorial team (Ana Kutleša, Ivana Hanaček, Vesna Vuković) a prize for the research and exhibition project "The Issue of the Art of the Collective – Case Zemlja" in the art history/mediation category.
The jury noted the following, "We consider particularly valuable the idea to research the members of the art collective, their works and their activities through the methods of network analysis, to present the research and visualise it in that vein, thus gaining insight into the positions and importance of individual artists, as well as their relationships with the broader socio-political context. This creates the space to revisit existing historical-artistic interpretations, as well as raise new research questions."
The project "The Issue of the Art of the Collective – Case Zemlja' (2016 – 2019) deals with the research of the Zemlja Artists" Association (1929 – 1935), one of the first examples of organised and programmatic gathering of artists in the area, and it was presented to the public as a series of exhibitions (Zagreb, Pula, Petrinja). We have approached this collective artistic endeavour by dissecting the broader socio-political context of the interwar period. The historisation of "Case Zemlja" has raised an issue neglected by the existing narratives, that of the relationships between the Association's members and the social movements of the time. We were interested in how the artists had understood the social function of their practice, as well as how the heteronomous critique of the autonomy of art resonated within the Association itself and the artistic field at large. Although almost an entire century separates us from Zemlja's collective work and its search for the answer to the question of what is leftist art, art created collectively and intended for the collective, these questions are still relevant today. This is not to say that this historical example can be applied to the contemporary situation as a recipe, but rather that a space must be created for a new historisation of Zemlja's artistic practice.
The award ceremony will take place on the 7th of November at NS-Dokumentationszentrum (Documentation Centre for the History of National Socialism) in Munich.