Jasmina Cibic: FRUITS OF OUR LAND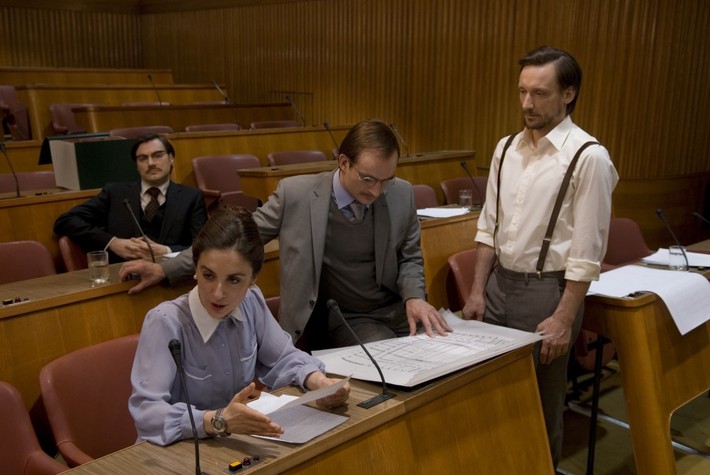 screening and talk by the artist Jasmina Cibic and architect Nika Grabar, collaborator and researcher in the project

Friday, 10. 4. 2015 at 7 pm
Showroom @Gallery Nova, Teslina 7


Jasmina Cibic's video work Fruits of Our Land was shot specifically for For our Economy and Culture, the artist's project for the Slovenian Pavilion at the 55th Venice Biennial that explored issues around national representation and its framing. Fruits of Our Land presents a recreation of a 1957 parliamentary debate between politicians, architects and art historians, set up to decide which artworks might be suitable (i.e. nationally representative enough) to 'decorate' the newly built People's Assembly in post 2 WW Slovenia. The script is a word-for word re-enactment of the transcripts found in family archives of the politicians of the era and it presents a specific moment within the months long actual debate: the discussion around a singular proposed artwork with the title Fruits of Our Land. Despite the benign motives, the artwork in question ended up being the only artwork in this parliamentary discussion that was censored and elicited great emotional outbursts from the leading state politicians. The script that presents a non-resolute debate around ideological vision amongst the members of the "Committee for the Review of Artistic Works" further examines modes of exchange, reception and constructions of identity. The re-imagining and re-contextualising of issues around soft-power and how nation-states select their iconography with which they go on to market themselves, dramatizes not only the power paradigms inherent in systems of authority, but also the explicit contradictions present in the transmutation of a national identity from past to present, place to place.
"Unlike architecture, language can express the opposite of what appears to be stated. With a false statement we can, to an extent, express the truth, with positive statements, we can express disagreement. Can we discern truth in artworks in a similar way? Can artistic practices operate so that the artist reveals what is otherwise unrepresentable by carefully articulating their own language?
Jasmina Cibic's spatial installations interfere with political space by combining heterogeneous, ideologically charged contexts. The presentation will introduce those, which relate to history, architecture, and research at the time when the film was made. Establishing the contact of historical time with the time of the art biennial, it intends to question the present moment in time. As it turns out, in the context of Cibic's installation, architecture can speak about a certain truth precisely because of her manipulation of space in the field of art." (Nika Grabar: Context of Irony — Irony of Context)
Jasmina Cibic studied at the Accademia di Belle Arti, Venice, Italy, before receiving an MA in Fine Art at Goldsmiths College, London, 2006. She is the recipient of prestigious awards including Bevilacqua la Masa (Venice 2002, 2005), The Trend Award for outstanding achievements in visual art in Slovenia, (2011) and Catlin Commission Award, (London, 2011). Her work is site and context specific, performative and employs a range of activity, media and theatrical tactics to redefine or reconsider an existent environment and its politics. Jasmina Cibic represented Slovenia at the 55th Venice Biennial with her project For Our Economy and Culture.
Nika Grabar graduated from the Ljubljana Faculty of Architecture and started her work as a researcher at the Institute for Architecture and Physical Planning in Ljubljana in 2003. In 2007 she was awarded a Fulbright scholarship and continued her research in the field of architecture and politics at Columbia University, GSAPP in New York for two years as a visiting researcher. She defended her Ph.D. thesis in 2009 at the Ljubljana Faculty of Architecture. From October 2009 to May 2013 she was teaching at the Academy of Design in Ljubljana. From October 2010 to February 2012 she participated in the European Culture Project Unfinished Modernizations, in 2012 she prepared a research project Stories of the Slovene Parliament and was involved in preparing architectural research for the 2013 Slovenian pavilion at the Art Biennale in Venice. Since 2013 working as an assistant and researcher at the Faculty of Architecture in Ljubljana and since 2014 enrolled in the Ph.D. program Comparative Studies of Ideas and Cultures at ZRC SAZU Ljubjana.
Program editor: Vesna Vuković
Donors: Ministry of Culture of the Republic of Croatia, Office for Education, Culture and Sports, City of Zagreb