ART AND CULTURAL WORKERS CONGRESS 2023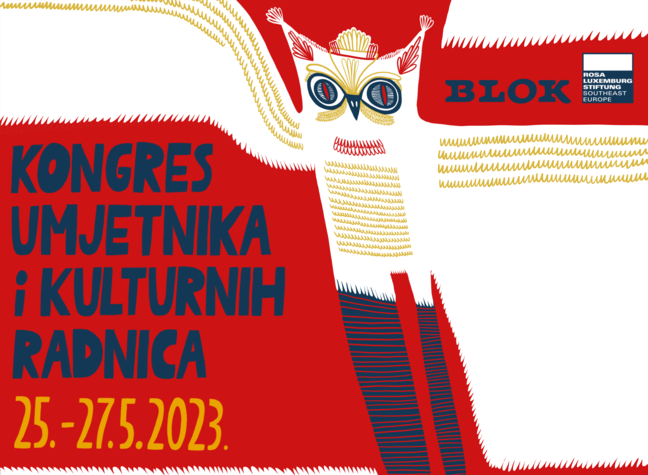 MAY 25 - 27, 2023
BAŠKA, KRK
The Art and Cultural Workers congress is a program that we have run since 2021, alternating it with the Political School for Artists (And All Those Interested). Its objective is self-education and exchange of knowledge on organizing of workers in art, culture, and related fields. The first Congress was held in 2021, with participation of several international organizations, professional associations, and trade unions, all actively fighting for better working conditions in the field of culture and arts. This year, the second edition of the Congress gathers Croatian initiatives, trade unions, independent culture and civil society organizations, professional associations, and art and cultural workers who have been very intent over the past few years on organizing with the goal of achieving improved workers' rights in the sector. The program has a working, internal character, and its objective is to empower connection between different initiatives, discuss organizing strategies, and find a ground for a joint struggle.
ART AND CULTURAL WORKERS CONGRESS 2023
*PROGRAM*
THURSDAY, MAY 25
13:00 - 15:00 // INTRODUCTORY SESSION
introduction: overview of work and employment in the independent cultural field [BLOK]
joint work: mapping of the conditions and problems in the field [the Regional Industrial Trade Union RIS]
15:00 - 15:15 // BREAK
15:15 - 17:00 // THEMATIC SESSION: TRADE UNION WORK IN THE CIVIL SOCIETY FIELD
presentation: SKUPA (trade unions work), RIS (trade union initiative 'Personal assistants together')
joint discussion
17:00 - 17:15 // BREAK
17:15 - 19:00 // THEMATIC SESSION: ADVOCATING BETTER WORKING CONDITIONS
presentations: BLOK (For a Fair Wage! campaign), the Croatian Youth Network (I am Worth More campaign)
joint discussion
FRIDAY, MAY 26
13:00 - 15:00 // THEMATIC SESSION: FREELANCERS
presentations: Za K.R.U.H. (For Bread, the Code Fair-Pay in Culture), the Trade Union of Croatian Journalists (freelancers), The Associations of Professional Dance Artists PULS (professional price list)
joint discussion
15:00 - 15:15 // BREAK
15:15 - 19:00 // THE THETRE OF THE OPPRESSED
workshop [POKAZ]
SATURDAY, MAY 27
10:00 - 12:00 // FINAL DISCUSSION
ILLUSTRATION AND DESIGN: Klara Rusan
THE PROGRAM IS FINACIALLY SUPPORTED BY THE ROSA LUXEMBURG STIFTUNG SOUTHEAST EUROPE.