SHIP=CITY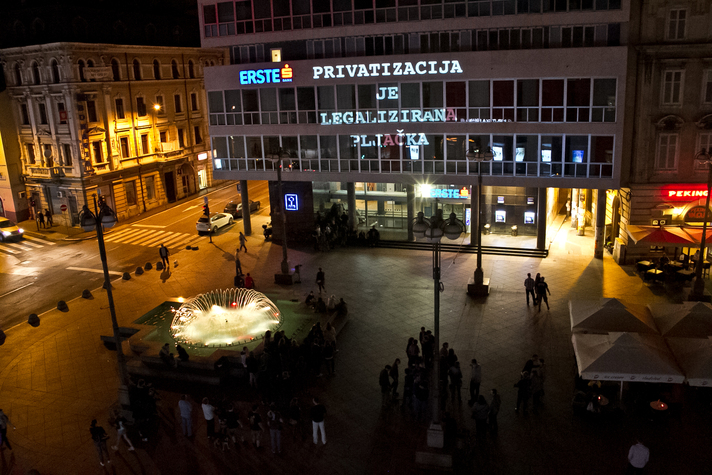 action in public space

[BLOK] and Rafaela Dražić

May 3, 2013

Jadranski Square, Rijeka
In response to an open competition for the "Spajalica" programme, in which the Museum of Modern and Contemporary Art Rijeka seeks to explore its spatial context, its immediate urban environment, and the contemporary art practices in public space beyond (monumental) sculpture, we have conceived an action called BROD=GRAD / SHIP=CITY. Regarding the propositions of the call, which also includes spaces that do not officially belong to the Museum's exhibition venue, we have decided to use this action, performed on the day of Rijeka's liberation from the fascist occupation (May 3, the date after which the shipyard was named "3. MAJ") to draw public attention to the place, the role, and the importance of shipbuilding industry for the city of Rijeka. Visual and textual messages, produced in collaboration with various activists, journalists, workers, and artists, emphasize the fact that shipbuilding, even though unable to yield quick or large profits, has crucial implications for the city as it encourages local production and consumption, indirectly strengthens the public sector, and empowers the society as a whole. Directly or indirectly, shipbuilding industry employs more than 30 thousand workers, who thus support the unemployed and the retired. Thus one may say that the entire city builds a ship, while the ship builds the city. Ship=City.
Our research preceding the action started by asking what the Bank of Rijeka meant for the city and what are the present consequences of its privatization. Therefore, we have used the bank's former building, which still bears the old, well-known "key" as the symbol of the Bank of Rijeka, as the projection surface. The bank's importance for the city was largely due to the fact that, during the socialist period, it supported the thriving industry of Rijeka and returned the surplus value into its public funds. Although one of the largest generators of economy at the time, the shipyard "3. MAJ" now awaits privatization, which implies personnel cuts and fragmentation of its activity, possibly its complete transformation if the future investor decides that shipbuilding is not profitable enough. This situation indicates that the privatization of the Bank of Rijeka is only an emblem for a series of mechanisms that dissolve the city with more or less visibility.
Ship=city.
Produced by: Museum of Modern and Contemporary Art Rijeka, as part of the "Spajalica" programme