MICROPOLITICS 2023: READING ART (HISTORY) AS A FEMINIST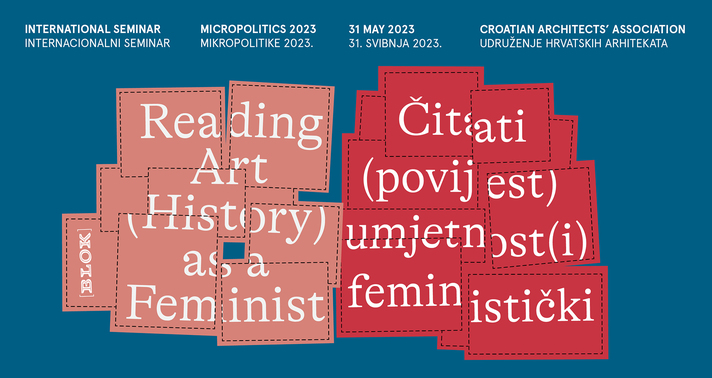 MICROPOLITICS 2023: Reading Art (History) as a Feminist
Guest editor: Petra Šarin
Participants: Iva Čukelj, Sanja Horvatinčić, Agata Jakubowska, Ljiljana Kolešnik, Iva Kovač, Glorija Lizde, Filipa Lowndes Vicente, Leopold Rupnik, Jasmina Tumbas
Wednesday, 31 May 2023, 9:30 a.m. to 5:30 p.m.
Venue: Croatian Architects' Association, Ban Jelačić Square 3/1
Online lectures at 12:15 (Filipa Lowndes Vicente, Agata Jakubowska) and 16:00 (Jasmina Tumbas, Glorija Lizde): LINK
The Micropolitics 2023 program "Reading Art (History) as a Feminist" is a one-day international discursive seminar, which will attempt to shed light on local and international processes and the achievements of feminist strategies in the visual arts, as well as in art history.
In the Croatian context, visual arts are often interpreted exclusively at a formal-stylistic level and analysed as an ahistorical, autonomous practice. In this constellation, feminist readings of art (history) are systematically marginalized and discredited due to, among other things, methodologies that find their bases in interdisciplinary, horizontal and decolonial approaches.
This program will therefore try to shed light on the processes, challenges and achievements of feminist epistemology through different local and international case studies. Its goal is to produce new knowledge and insights as a step towards replacing the shortcomings of the curriculum of public educational institutions, with the ambition of creating a counterpoint to the reproduction of anachronisms and discriminatory, imperialist narratives.
The one-day international discursive seminar consists of nine lectures by artists, curators, researchers, experts and scientists, who will address the aforementioned issues in three thematic sessions entitled Feminist Readings: Educational policies – methodologies – case studies.
Petra Šarin, guest editor
The seminar is free and open to all interested parties without prior notice. Links to lectures that can be followed online will be available on Facebook and the BLOK website from Monday 29 May.
PROGRAM
9:30 — 10:00 Registration & coffee
SESSION 1: EDUCATIONAL POLICIES / THE SESSION IS IN CROATIAN AND LIVE
10:00—12:00
Ljiljana Kolešnik, PhD, Institute of Art History, Zagreb
The State of Feminist Art History and Feminist Art Criticism in the Context of Local and Regional Practices of Writing on Art
Leopold Rupnik, Independent researcher, Croatia
An Analysis and Interpretation of the Croatian Visual Arts Curricula and Textbooks from the Perspective of Gender Equality
Iva Čukelj, Art teacher and visual artist, Croatia
Matrilineal Storytelling: On Craft
12:00 — 12:15 Coffee break
SESSION 2: METHODOLOGIES / THE SESSION IS IN ENGLISH AND PARTIALLY ONLINE
12:15—14:15
Filipa Lowndes Vicente, PhD, Institute of Social Sciences, University of Lisbon (ICS-ULisboa)
Group Exhibitions of Women Artists: An Historical Survey (19th and 20th Centuries) / ONLINE
Agata Jakubowska, PhD, Warsaw University
The Politics of All-Women Exhibitions / ONLINE
Iva Kovač, City of Women – Association for the Promotion of Women in Culture
The How (and the What) of Feminist Curating, but Mainly the How
14:15 — 15:30 Lunch break
SESSION 3: CASE STUDIES / THE SESSION IS IN ENGLISH AND PARTIALLY ONLINE
15:30 — 17:30
Sanja Horvatinčić, PhD, Institute of Art History, Zagreb
A Gendered Perspective on War Memory and Memorial Production in Socialist Yugoslavia
Jasmina Tumbas, PhD, University at Buffalo
Legacies of Queer and Feminist Performance in Socialist Yugoslavia and its Diasporas Today / ONLINE
Glorija Lizde, Visual artist, Croatia
Reinterpreted: Myths on Femininity / ONLINE
design: Nikola Križanac
The program is financed by the Ministry of Culture of the Republic of Croatia and Zagreb City Office for Culture, International Relations and Civil Society.