DISCUSSION "DRAWING POLITICS, THE POLITICS OF DRAWING"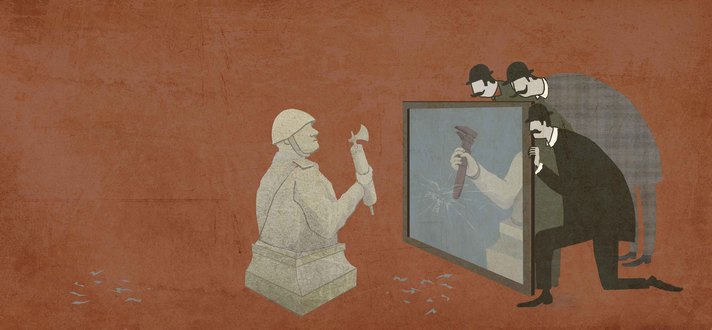 FRIDAY, OCTOBER 21, 2016 AT 7 P.M.
BAZA, B. Adžija St 11

PARTICIPANTS: LUCIJA MRZLJAK (CRO), VASJA LEBARIĆ (SLO), BOJAN KRIŠTOFIĆ (CRO)
At first glance, and without any special insight, one might conclude that the illustration scene has never been livelier. A relatively inexpensive medium without complex production conditions, an increase in the number of highly educated painters, but also the development of self-organized graffiti scene led to the blossoming of illustration. However, this new dynamic has brought about a number of negative effects, as well, which range from the issues of working conditions for illustrators in the circumstances where there is a large number of educated professionals, through the issue of relations between the illustrations and content, to the question of validating its specific artistic contribution. In the earlier periods, throughout the second half of the 20th century, and before, it was quite common that the established artists were engaged in well-paid work in the applied arts, i.e., the illustration of textbooks, books, picture books, encyclopedia, newspaper. For example, Nasta Rojc illustrated the 1913 "The Brave Adventures of Lapitch" by Ivana Brlić Mažuranić, Ljubo Babić illustrated the 1916 "Magical World" by Ema Božičević, Marijan Detoni illustrated the 1954, and Joseph Vaništa the 1975 edition of "Train in the Snow" by Mate Lovrak. Today many artists develop illustration as their primary (and often only) artistic expression, and balance between self-initiated projects and low-paid engagements in the international market.
We will talk about the contemporary illustration scene, the position and status of illustration, and the working conditions in this specific field with illustrators Lucija Mrzljak and Vasja Lebarič, and critic Bojan Krištofić. Moderated by Ivana Hanaček.
The discussion is part of the programme Micropolitics. The program is supported by the Ministry of Culture, Department of Education, Culture and Sports of the City of Zagreb.