RAFAELA DRAŽIĆ: LAYING THE FOUNDATION STONE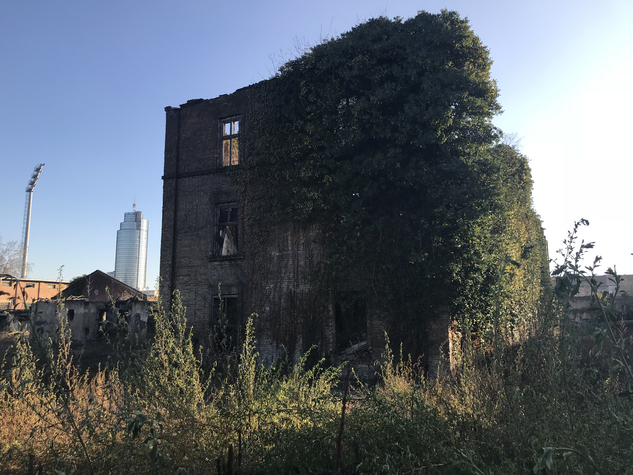 action


THURSDAY, JULY 5 at 8 PM
BOŽIDARA ADŽIJE STREEt 7-9, ZAGREB
The action consists of laying the foundation stone with an inscription inspired by the model workers' settlement project that the local government had plans to build in Bubara in the 19th and early 20th century. The inscription also serves as something of a homage to female workers, given that the jobs in the former Bubara were performed by predominantly women. At a time when workers' housing was 'dealt with' through market mechanisms, the project was abandoned. Today, when the land is privately owned, one can hazard a guess as to what type of 'investment' might take place there.

Božidara Adžije Street 9 houses the remains of Kraljevska zemaljska bubara (Royal Silk Factory) built in 1892 at the very edge of the city at the time. Since the production of silk folded before long, the venue was rented out to Aeroklub Zagreb for its workshop and pilot school in the 1930s, and during the Second World War it was used for training military pilots, for mechanical repairs and sailboat manufacture. In the 1950s, after the war, it was taken over by Taksi-remont, which dealt with the import and sale of motor vehicles. At the beginning of the 1990s, the space was privatized alongside Taxi-remont, which no longer carried out its core business, but remained the landowner. Although it is one of Zagreb's most interesting examples of industrial architecture, the complex is not included in the Register of Cultural Goods, nor is it part of a heritage site.

The above makes Bubara an attractive piece of property for construction and speculation. The plan of the new owners and city administration for building a business-residential complex extending from the former Samoborček station to Kranjčevićeva Street has been temporarily halted by the Church, which seeks the 'restitution' of a part of the Žajina Street plot, owned by Taksi-remont. It is a plot of over 5 000 m2 and only Božidar Adžija Street keeps it separate from the spacious neglected plot which extends all the way to the NK Zagreb stadium.

The city seeks to 'help out' the investors by offering the Church other city properties in exchange for letting go of the parcel in Žajina Street. Part of these 'donations' is the Savica Park, which brought about protests of local residents.
Rafaela Dražić
Rafaela Dražić received her PhD at the Academy of Fine Arts in Warsaw. In everyday practice, she operates exclusively in the field of culture and non-governmental organizations, and often uses design as a medium in hybrid projects and the projects on the borders of her profession.


associate: Selma Banich