ARTISTS FOR NEIGHBOURHOOD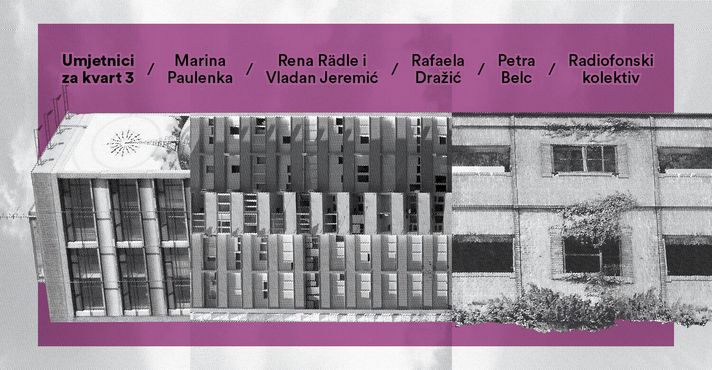 The program Artists for Neighbourhood is a long-term program tied to the Zagreb neighbourhood of Trešnjevka. The program continues the practices of the 15-year-long festival of public space art - the UrbanFestival - and is partly taking place in BAZA (eng. base), and partly in the public spaces of Trešnjevka neighbourhood. It is based on research, new productions, multidisciplinarity, multimedia practices and social engagement through art, while developing a closer cooperation within the neighbourhood.

The first edition, from 2016 to 2018, is exploring the subject of housing in Trešnjevka. This is a neighbourhood where we can track various processes related to housing: historically, this has been a working class neighbourhood, one of lower quality due to its pre-World War II construction, a place where the working class movement sprung and contributed greatly to the Zagreb anti-fascist movement. After the World War II, as in many other parts of Zagreb, it tended towards socialist city, through projects of collective housing and the construction of infrastructure, such as the still existing neighbourhood cultural center CeKaTe. In the transitional period, Trešnjevka was largely characterised by illegal construction, the influence of private capital on housing, acquisitions of dilapidated housing units and market placement of new buildings, whose parameters change the organisation of the neighbourhood to the core.The present state of Trešnjevka can serve as the grounds for research of the housing issue today: who, if anyone has access to a permanent solution to the issue of housing, and how do we build a community and the communal in such circumstances - these are only a few questions raised by this topic.
participating artists in 2016: Bojan Gagić, Bojan Mrđenović, Božena Končić Badurina, Marko Gutić Mižimakov, Selma Banich, Petra Belc
participating artists in 2017: Ana Kuzmanić, Ljubica Letinić, David Kerr & Ina Wudtke, Martina Malešič & Anja Planišček & Klemen Ploštajner, Petra Belc, Frano Petar Zovko & Lucija Mrzljak
participating artists in 2018: Marina Paulenka, Rena Rädle & Vladan Jeremić, Rafaela Dražić, Petra Belc, Ljubica Letinić
curators: Ana Kutleša, Ivana Hanaček, Vesna Vuković
Program is supported by the Fondation "Kultura nova", the Ministry of Culture of the Republic of Croatia and the City of Zagreb.