PETJA DIMITROVA: ON ARTISTIC EDUCATION IN NEOLIBERALISM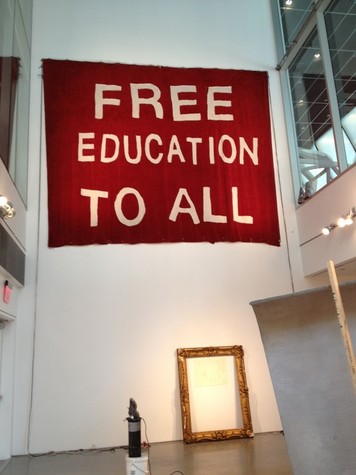 PUBLIC LECTURE WITHIN THE POLITICAL SCHOOL FOR ARTISTS (AND ALL INTERESTED)
FRIDAY, MAY 5, 2017, 7 P.M.
BAZA, B. ADŽIJE STR 11

Under conditions of the neoliberal policies, the art academies and art institutions are becoming more and more corporate and promote "new products" for the "lowest prices". Pushed by privatization, economisation, selection, elitism and class-racial exclusiveness, and then "internationalization", which actually involves only the inclusion of the EU passports holders in the educational process, that is, those "within" the borders of the EU migration regime, the art schools and academies are in a state we need to constantly reflect. What does art and "becoming an artist" mean in the context of the aforementioned standardizations, postgraduate education, precarious working conditions, etc.? What kind of curricula in art academies and schools do we need in order to organize new models of learning and strengthening social relationships, common goods, collectivity and solidarity?
The student and wider-social movements that have arised from the resistance to the neoliberal living conditions have created many self-organized art schools, workshops and various forms of radical pedagogy as an alternative to the existing institutions. The "We are here Academy" in Amsterdam, "Universität der Ignorant_innen" in Linz, "Free Cooper Union" in New York are just a few examples.
But there remains a question of how to deal with a situation in which the existing academies have found themselves to be. "No one can contradict the fact that the university represents a kind of refuge, but at the same time no one can accept that this is a space of enlightenment, as well."
Through examples of struggles for education available to all in Vienna and elsewhere, we will deliberate on a different artistic education that can give a relevant and progressive contribution to the creation of a critical and democratic society.

PETJA DIMITROVA is an artist and activist living in Vienna since 1994. Her artistic practice is being situated between fine arts and political and participatory cultural work. Teaches at the Academy of Fine Arts in Vienna. Form 2011-2014 an artistic direction of the festival WIENWOCHE (together with Can Gülcü and Radostina Patulova). 2005-2014 was a member of the board of IG Bildende Kunst (Artists' Union), member of "Netzwerk Kritische Migrationsforschung und Grenzregime" (Network for Critical Borderand Migration Regime Research). Associate Editor of the books: "Migrationsskizzen: Postkoloniale Verstrickungen, antirassistische Baustellen" ("Sketches of migration: postcolonial enmeshments, antiracist construction work") and of "Regime. How Dominance is Organised and Expression Formalised" (in Germ). She is a member of the Initiative 1st March – Transnational Migrant Strike Day. Numerous Exibitions, Publications, Diskussions etc.


THE PROGRAMME OF THE POLITICAL SCHOOL FOR ARTISTS IS FINANCIALLY SUPPORTED BY THE ROSA LUXEMBURG STIFTUNG SOUTHEAST EUROPE.