APPLAUSE DOESN'T PAY RENT (WORKSHOP)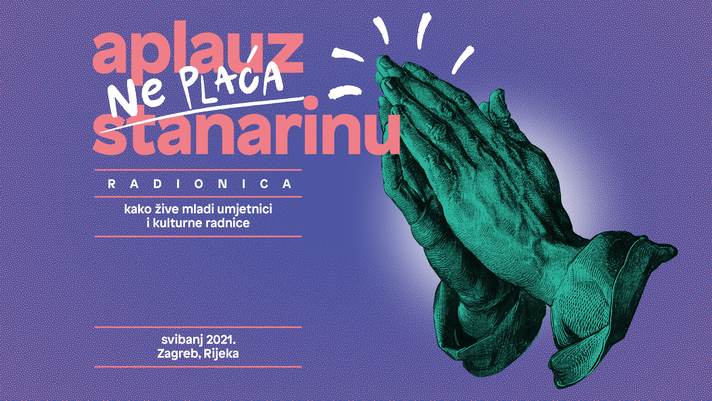 APPLAUSE DOESN'T PAY RENT: HOW YOUNG ARTISTS AND CULTURAL WORKERS LIVE
WORKSHOP
MAY 14-15 AND 21-22, BAZA, ZAGREB
MAY 29, RIJEKA
You work in the cultural field and are between 20 and 30 years old? You do photography or design for peanuts, and volunteer on a million projects while taking classes? You are a musician who always performs for a tepid beer and travel allowance? Or perhaps you do an organizational administration job on a temporary contract for a cultural association?
Do you ask yourself for how long you will be forced to accept low-paying jobs only to ''gain experience'' and finally get a fairly paid job? Do you often hear that you are in the arts field because pursuing your ''passion'', and therefore it is not that important if you are poorly paid? Does it seem that you have to compete with your colleagues for jobs and scrape by?
Do you want to know what precariousness is, and what it has to do with the position of young people in Croatia? Do you want to gain knowledge on the struggle for workers' rights? Do you wonder about ways in which other artists and cultural workers fight for better working conditions in the field?
WE WOULD LIKE TO INVITE YOU TO APPLY FOR A WORKSHOP DEDICATED TO WORKING CONDITIONS OF YOUNG ARTISTS AND WORKERS IN THE CULTURAL FIELD.
The workshop will cover the relationship between art and work, workers' rights, the question of precarious, insecure types of work, working and existential conditions of artists and cultural workers in various disciplines, with a particular focus on a specific position of young people, and we will discuss possibilities of a joint struggle for better working conditions in our field.
The workshop is aimed at young artists in all disciplines and cultural workers, regardless of their educational level, between ages 20 to 30. It is free of charge, and will be held in Zagreb over three weekends, from May 14-29. The first two weekends are structured as two-day sessions (Friday 3 p.m.-8 p.m. and Saturday 11 a.m.-4 p.m.), while on the third weekend the participants are going to visit Rijeka. The program will be held in compliance with the current COVID-19 infection prevention measures.
Considering the current epidemiological situation, the maximum number of participants is 15. Due to this restriction, the key selection criteria will be motivation, ability to regularly attend the workshop, and readiness to actively participate in joint activities.
The application should contain: name and last name, date of birth, education (formal and informal), a short motivational letter (up to 3.000 characters), and a Europass CV.
Please send you application to BLOK@BLOK.HR (subject: Workshop Application) by APRIL 18.
WORKSHOP PROGRAM:
1ST SEGMENT (MAY 14-15)
NIKOLA VUKOBRATOVIĆ: How did we get labor rights?
ANA KUTLEŠA: An artist: the grasshopper or the ant?
JAKOV KOLAK: Young people on the labor market
GROUP WORK: working conditions of young artists and cultural workers
2ND SEGMENT (MAY 21-22)
ANA KUTLEŠA, NINA GOJIĆ AND KARLA CRNČEVIĆ: Working conditions and possibilities of organizing in the fields of visual arts, dance, and film
MATIJA PRICA AND DUNJA KUČINAC: activities of the Platform for working conditions in culture Za KRUH (For BREAD)
SELMA BANICH: The ABC's of Activism (visual arts workshop)
3RD SEGMENT (MAY 29) – VISIT TO RIJEKA
Participants: workers of the Museum of Modern and Contemporary Art, Lela Vujanić (Građanke svom gradu – Citizens for its City), conversation with artists
Visual design: Lana Grahek for BLOK.
The workshop is organized as part of the project called "Applause Doesn't Pay Rent: How Young Artists and Cultural Workers Live'' carried out within the Erasmus+ program, and is co-funded by the EU funds, with the support of the Agency for Mobility and EU Programs. Any views expressed in this announcement are solely those of the organizer. The Agency for Mobility and EU Programs, and the European Commission cannot be held responsible for the use of information it contains.