BENEFIT FAREWELL PARTY FOR CLOSING OF BAZA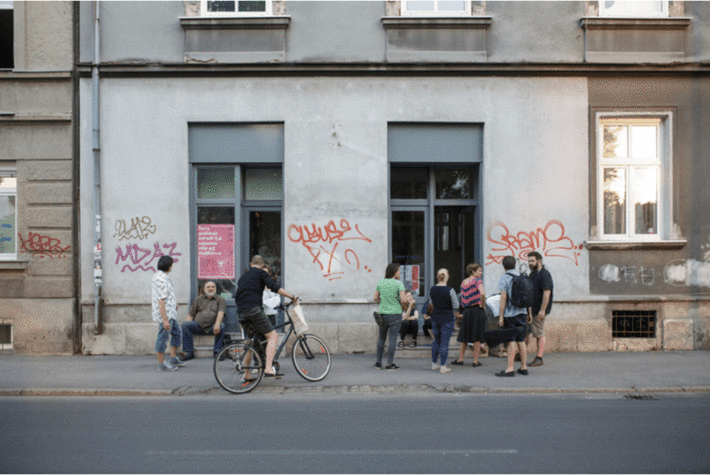 BAZA, ADŽIJINA 11
FRIDAY, MARCH 18, 2022
FROM 6 P.M.
Dear friends, collaborators, and neighbors,
Many of you know that the building in Adžijina that was home to BAZA suffered significant damage due to the 2020 Zagreb earthquake. What followed was a temporary relocation of BAZA to a space in Nova cesta, the New BAZA, where you might have participated in our programs. Since we have had enough of dealing with humidity, fixing broken pipes, and managing other infrastructure problems, which have been a common occurrence in the neighborhood, and we do not have enough financial resources to maintain two places, we have decided to move permanently to the New BAZA! Although it would be nice to have more space for work, exhibitions, discursive programs, and gatherings of other initiatives, which we have always hosted with pride, the current situation on the cultural scene is such that the sheer survival is already a success. The New BAZA makes it possible for us to continue with all these activities, albeit squeezed into a somewhat smaller space.
YOU ARE ALL WELCOME TO FOLLOW US IN THE NEW BAZA, BUT BEFORE THAT, YOU ARE INVITED TO HELP US CLOSE BAZA IN ADŽIJINA WITH DIGNITY AND JOY, IN THE SAME WAY WE OPENED IT IN 2015!
Our farewell party is a benefit party at the same time. We are offering various object, from KURS's art graphics, to IKEA's carpet, to modernist coat stand saved from a Croatian Railways old office, to a few books – in short, we are offering everything that we cannot bring along, in exchange for donations on the give-what-you-can basis. The New BAZA has become our new home thanks to plenty of our and our friends' unpaid work, so every donation is more than welcome. If you would like to support us, and cannot come to the benefit party, you can donate by bank transfer to the following account: HR1923600001101414852. If you come empty-pocketed, you are still welcome! We are stronger together!
BENEFIT FAREWELL PARTY IN BAZA, ADŽIJINA 11 – THIS FRIDAY FROM 6 P.M. AND NEVER AGAIN! LET US RAISE OUR GLASSES TOGETHER, WISH FAREWELL TO WINTER AND OLD PROBLEMS, EMPOWERED FOR NEW FIGHTS AND A BETTER FUTURE!
BAZA'S ANNUAL PROGRAM IS SUPPORTED BY THE "KULTURA NOVA" FOUNDATION.