FORUM: APPLAUSE DOESN'T PAY THE RENT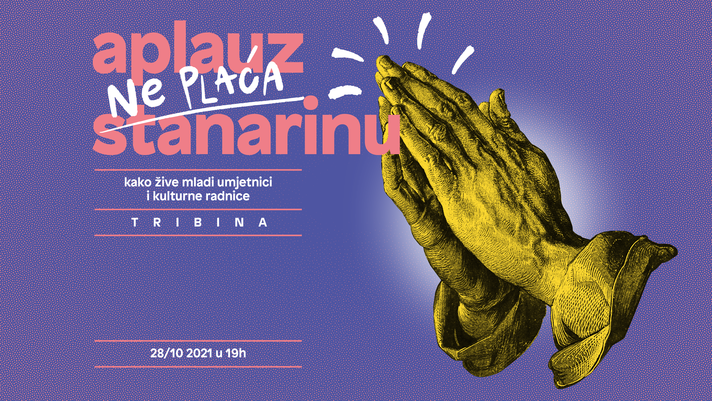 APPLAUSE DOESN'T PAY THE RENT: HOW YOUNG ARTISTS AND CULTURAL WORKERS LIVE
FORUM
28 OCTOBER AT 19H
MREŽA ANTIFAŠISTKINJA ZAGREBA, ULICA PAVLA HATZA 16, ZAGREB
ORGANISERS: BLOK AND MAZ
DUE TO COMPLIANCE WITH EPIDEMIOLOGICAL MEASURES AND A LIMITED NUMBER OF PLACES, REGISTRATION OF ARRIVAL IS MANDATORY AND SHOULD BE DONE AT BLOK@BLOK.HR BY WEDNESDAY 27 OCTOBER.
In what conditions do young curators, journalists, musicologists, visual and circus artists, architects and other cultural workers work? How do they obtain their first jobs and can they survive from their work? Should you, when you are twenty, create art for free, "out of love"? What needs to be done to provide artists and cultural workers with better working conditions?
COME TO THE FORUM AND PARTICIPATE IN THE DISCUSSION!
The tacit and generally accepted truth is that, in order to get any job in culture, one has to, from their early twenties onward, volunteer on as many projects as possible and work in underpaid student jobs that will later not be included in the length of service. The latter also applies to part-time and freelance jobs, the likely career path of young cultural workers and artists who have just completed their studies. Unpaid and underpaid work during university therefore "prepares" them very well for what awaits them later, although rarely anyone tells them this in schools and universities. Formal education is still strongly imbued with the ideas of artistic genius and the privilege of culture over the wider context, and the perspective of the conditions of their production is rarely provided.
And what kind of working conditions await young people in the field of culture? In their own words: employers who expect them to do anything without the option of negotiating wages or talking about workers' rights, pressure to constantly nurture social capital as an important factor in the circulation of jobs, and the vicious circle of part-time/freelance, seasonal and project-based jobs that have to be accepted so as not to close the door on the next engagement. Such conditions quickly dispel young people's illusion that art and culture can be produced out of "pure love" and lay bare their position, shared with a wider circle of peers, among whom high unemployment and precariousness are the norm. Unfortunately, this situation has long been completely normalized in the field of culture, and is a consequence of the dominant ideology that views artistic work as "special" and impossible to renumerate, as well as long-standing policies resulting in diminishing public funding, increasing commercialization and dependence on short-term and uncertain projects.
Wanting to encourage mutual education and empowerment in the common struggle for better working conditions in the field of culture, as well as to defend culture as a public good, we are organizing a forum where we will discuss the position of young people in the field and the possibility of improving that position via obtaining greater workers' rights. The forum is the result of the "Applause Doesn't Pay the Rent" workshop, held in May this year and attended by fifteen young artists and cultural workers.
THE FORUM WILL FEATURE THE FOLLOWING SPEAKERS:
selma banich, artist, Za K.R.U.H. (For BREAD)
JAKOV KOLAK, editor at Radnička prava (Workers' Rights), BRID
TENA STARČEVIĆ, art historian, "Applause Doesn't Ray the rent" workshop participant
VISUAL DESIGN: Lana Grahek for BLOK
THE FORUM IS COORGANIZED BY BLOK - LOCAL BASE FOR CULTURAL REFRESHMENT AND MREŽA ANTIFAŠISTKINJA ZAGREBA (ANTIFASCIST NET ZAGREB)
The forum is organized as part of the project titled "Applause Doesn't Pay the Rent: How Young Artists and Cultural Workers Live", implemented within the Erasmus+ program and is co-funded by the European Union, with support from the Agency for Mobility and EU Programmes. Any views expressed in this announcement are solely those of the organizer. The Agency for Mobility and EU Programmes, and the European Commission cannot be held responsible for the use of information it contains.