"WILD GROWTH", ANA KUZMANIĆ'S RESEARCH AND ONLINE EXHIBITION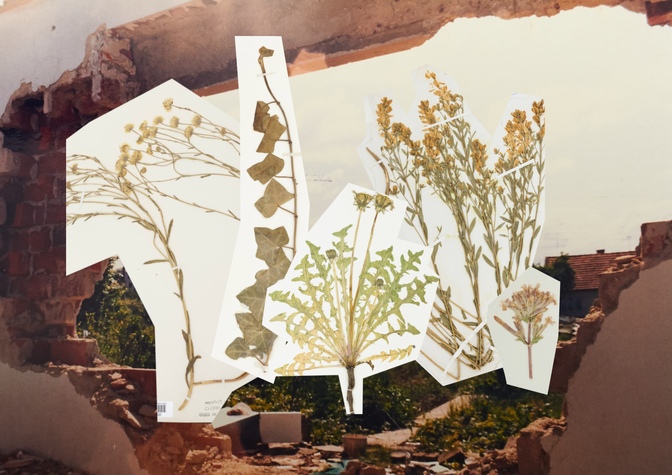 ANA KUZMANIĆ: WILD GROWTH
ONLINE EXHIBITION
28 DECEMBER 2021
TREŠNJEVKA NEIGHBORHOOD MUSEUM
Ana Kuzmanić's research uncovers the world of plants passing completely "under our radar", growing in places that we would rarely associate with green areas: on halted construction sites, in between buildings, along railways and roads, sometimes literally sprouting from the asphalt. Ana's herbarium of Trešnjevka reveals the other side of botany and points to the fact that it is a system that, like any science, is a product of society, a construct that seeks to "bring order" to nature. The majority of the plants she found are considered weeds, and some of them are invasive (and therefore undesirable) species. Still, weeds can be food and medicine, and an invasive species can also be a plant resistant to climate change, adapted to the future in which we will appreciate every green leaf. As the first step in sharing her research with the public, Ana Kuzmanić combined the herbarium of Trešnjevka plants with the artifacts from Trešnjevka's history.
Collages, coupled with short texts about the plants, evoke various associations regarding the rootedness of Trešnjevka plants in the physical and social tissue of the neighborhood. It is also striking that the picked (out) plants originate, just like the population of Trešnjevka then and now, from many different places. Botany introduces the categories of "foreign" and "naturally occurring", "allochthonous" and "autochthonous" species, but the plants themselves do not have passports and know no boundaries. The spread of their seed is beyond human control, although it makes abundant use of human action: with the army, workers or refugees, in trucks, in cargo bags, the seed is a common stowaway. The locations where the plants used here were found, the stretch along the railway towards Magazinska Street, and the area of the former silk factory, one of the oldest industries in the neighborhood, as well as several neighboring plots towards the football stadium, directly connote migrations.
The herbarium of Trešnjevka's wild plants is a material from which issues, related to social relations, production modes, urban planning, sustainable development, folk healing practices and folk beliefs as well as other topics set in between nature and society, rhizomatically spread. In a series of collages entitled "Wild Growth", which completes the first part of her research, Ana Kuzmanić redirects plants, compressed and dried, from further botanical processing and returns them to Trešnjevka, placing them within fragments of neighborhood memories and enabling them to live a new life and further grow towards the final phase of the project in 2022.
Ana Kutleša
To visit the exhibition, click HERE.
"WILD GROWTH" IS A PART OF THE "TREŠNJEVKA NEIGHBORHOOD MUSEUM - LIVING HERITAGE" PROJECT. IT IS HELD WITH THE FINANCIAL SUPPORT OF THE CITY OF ZAGREB AND THE MINISTRY OF CULTURE AND MEDIA OF THE REPUBLIC OF CROATIA. THE ANNUAL PROGRAM OF BAZA IS SUPPORTED BY THE "KULTURA NOVA" FOUNDATION.