RADIO BAZA: LIVE MUSIC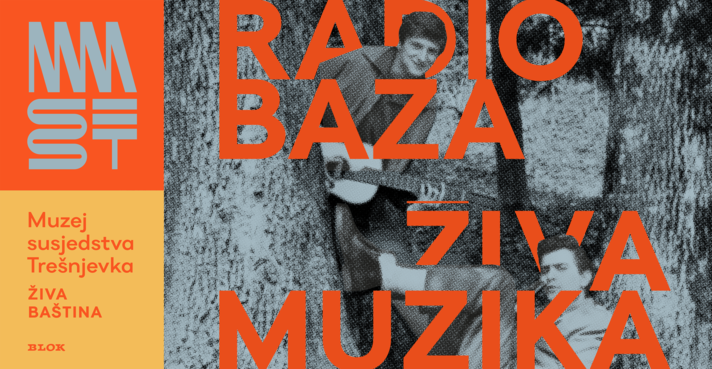 RADIO BAZA: LIVE MUSIC
DECEMBER 17 AT 19:00
NOVA BAZA, NOVA CESTA 66
EDITOR: Klara Berdais
PERFORMERS: Martin Ladika, Leo Hrs and Roko Margeta, Cura i Dečko, Prisoje
Trešnjevka was constituted by a "wreath" of hamlets that, in the late 19th and early 20th century, turned into a heavily industrialized area dotted with new factories and small houses for workers arriving both from the surrounding rural areas and those a bit farther. Over time, Trešnjevka ceased being a suburb and was incorporated into the city, and the different traditions and cultures of the newly-arrived workers greatly contributed to the cultural and ethnic diversity marking the neighborhood even today.
Outside of the exclusively digital sphere, this year's edition of Radio BAZA will take place in front of an audience - with live music, in Nova BAZA at Nova cesta 66. As usual, we seek to combat the commodification and formatting of the radio with collective production of critical programs, art and radio experiments, and a culture of diversity. With this edition of Radio BAZA, we emphasize that there is music outside of pop and mainstream, there are musicians who walk the arduous path of playing in front of the audience. They play all venues and have spent years performing for symbolic fees or none at all. Moreover, they are fascinated by the music they create and perform. The one-day program of this year's Radio BAZA will feature three performers who nurture the heritage and ethnic aspects of music, just as Trešnjevka has been nurturing its cultural diversity for years.
PRISOJE or SUNNY SIDE OF THE HILL is a project created by TEA REŽEK and it is based on vocal and instrumental interpretation of traditional songs of Croatia, Serbia, Bosnia and Herzegovina, Bulgaria and Macedonia. In her performance, Tea Režek mainly uses her voice and percussion instruments, and each song she performs preserves the heritage and tradition as well as the centuries-old specificity of the way it is performed.
MARTIN LADIKA is a forest poet and road singer, he is part of the thriving Karlovac scene, and he plays palatable folk. He creates and performs songs in his mother tongue, usually accompanied by a guitar, and recently in the company of two versatile musicians and companions LEO HRS and ROKO MARGETA, whose peculiar instruments know what encourages the songs to open a safe space for love and unity.
CURA I DEČKO are a musically enamored couple formed by IVAN MAROJEVIĆ and VANESA PETRAC. Their exciting live-act experiment is imbued with contradictions - soft, greasy, dreamy, gentle, heartfelt and hard. They make their music in order to express themselves and, in the process, inspire their community. At the same time, music serves them as a basis for testing concepts and going to extremes that connect the incompatible and achieve the unthinkable.
Klara Berdais
IT DOESN'T MATTER WHETHER YOU ARE A LONG-TIME FAN OF THESE ARTISTS OR SOMEONE FOR WHOM THEY BELONG IN THE "NEVER HEARD OF THEM" CATEGORY, STOP BY AT NOVA CESTA 66 ON DECEMBER 17 AT 19:00 AND ENJOY THE MUSIC!
DUE TO COMPLIANCE WITH EPIDEMIOLOGICAL MEASURES, THE NUMBER OF VISITORS IS LIMITED AND COVID CERTIFICATES ARE REQUIRED. WE KINDLY ASK EVERYONE WHO WANTS TO COME TO NOVA BAZA TO REGISTER AT BLOK@BLOK.HR IN ORDER TO SECURE THEIR PLACE. ALL THOSE WHO DO NOT FEEL COMFORTABLE IN THE INDOOR SPACE OR HAVE FAILED TO REGISTER IN TIME ARE INVITED TO TAKE A WALK ALONG NOVA CESTA AND TAKE A PEEK THROUGH OUR WINDOWS.
PHOTO FROM THE MAIN VISUAL: From the archive of Bogdan Štefanić, holdings of the Trešnjevka Neighborhood Museum
DESIGN: Zoran Đukić and Hrvoje Živčić
PHOTOS: Luka Pešun
"RADIO BAZA – ŽIVA MUZIKA" IS A PART OF THE PROJECT "TREŠNJEVKA NEIGHBORHOOD MUSEUM - LIVING HERITAGE". IT IS HELD WITH THE FINANCIAL SUPPORT OF THE CITY OF ZAGREB AND THE MINISTRY OF CULTURE AND MEDIA OF THE REPUBLIC OF CROATIA. THE ANNUAL PROGRAM OF BAZA IS SUPPORTED BY THE "KULTURA NOVA" FOUNDATION.