TREŠNJEVKA NEIGHBORHOOD MUSEUM: PRESENTATION FOR THE NEIGHBOURHOOD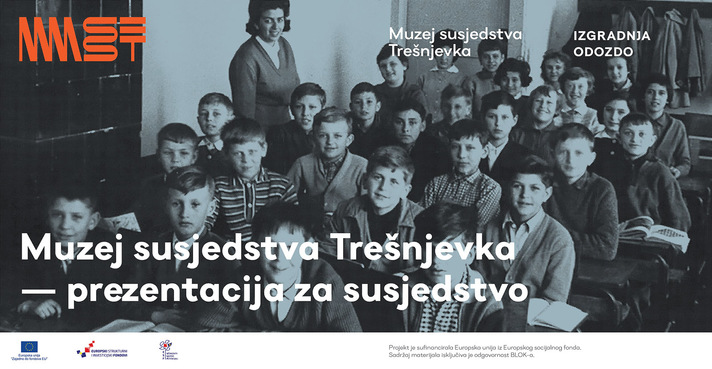 For more than two years we have been building the foundations of the future Neighbourhood Museum: we have been gathering items from neighbours for our virtual collection, researching the history of Trešnjevka, organising thematic tours around the district and seeking possible venues and designing a governance model for the future Museum. Time has come to present the new website of the Museum and other results of our work so far. We invite you to join us and support us in our future work in the establishment of a Trešnjevka Neighbourhood Museum.
Due to epidemiological circumstances the presentation will be held via Zoom on Thursday, November 26, 2020 at 6 p.m.
You can join the presentation via this link.
Due to technical restrictions, the online event is limited to maximum 100 participants.
Trešnjevka, as the oldest and largest Zagreb district has a rich history that was mainly written by the working class, immigrants from various parts of the country, numerous participants of the antifascist movement and all those who lived, worked, studied and spent their childhood and free time in Trešnjevka. With our project we would like to preserve this history, but also enrich today's Trešnjevka with a new place for cultural programs, socialization and participation of neighbours. Therefore, the project Neighbourhood Museum Trešnjevka – Building from Bottom Up represents the first step in initiating the neighbourhood museum founded on democratic principles, community inclusion and the revalorisation of heritage extruded from official narratives
The Neighbourhood Museum Trešnjevka – Building from Bottom Up project is conducted by BLOK in partnership with Centre for Peace Studies, SF:ius, K-zone and the Technical Museum Nikola Tesla.
The project has been co-financed by the EU European Social Fund as part of the operative program Efficient Human Resources. The content of this notice is in sole liability of BLOK.