INVISIBLE PLAYERS: WOMEN'S SPORT IN TREŠNJEVKA, URBAN TOUR AND MURALS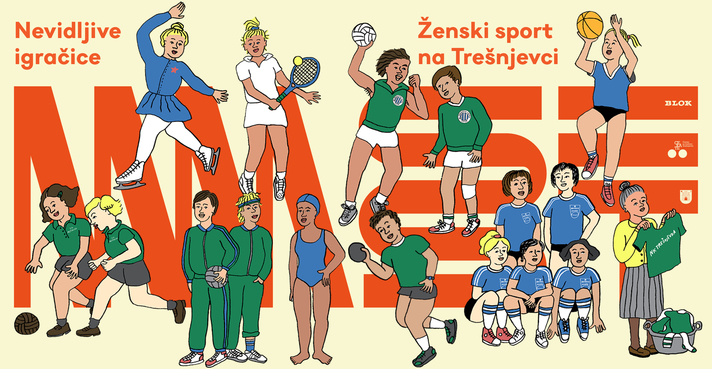 AN URBAN TOUR BY IVANA PERIĆ AND VANJA RADOVANOVIĆ (TREŠNJEVKA MAPPING), INCLUDING A VISIT TO A MURAL BY ENA JUROV
APRIL 22, 2023 AT 11 A.M. IN FRONT OF THE ''TREŠNJEVKA BEAUTY'' BUILDING, OZALJSKA 93
You are welcome to join us for a walk during which we will visit Trešnjevka's sports infrastructure from a different angle: we will not only resurrect important names of women's sport that had been fogotten, but also raise awareness of less familiar sports, invisible labor behind sport successes, and the importance of amateur and widely accessible sports.
JOIN US NEXT SATURDAY, WITHOUT PREVIOUS REGISTRATION, ON A WALK THAT STARTS IN OZALJSKA 93, TAKE A LOOK AT THE BOWLING ALLEY FOR THE FIRST TIME, RECALL WHAT IT'S LIKE TO STAND ON THE SCHOOL GYM WOODEN FLOOR, AND DISCOVER HOW TREŠNJEVKA'S SPORTSWOMEN BECAME VERY VISIBLE IN THE STREETS OF TREŠNJEVKA THANKS TO ENA JUROV'S BRUSH!
You can read more below, in the text by the tour co-author, journalist Ivana Perić.
"This whole team is very active, and their joint efforts among other women have distinctly political intentions. Their activity on the field is one of many manifestations of their wish to show how a woman can be, for example, an athlete. And to show that in those times, 1936, 1937, and 1938 – one had to have an enormous reservoir of the willigness to fight'' – this is a quote from a monography Golden Years of the RSD Metalac (1929-1979), issued on the occasion of the 50th anniversary of the foundation of Trešnjevka's workers' sports association. The team mentioned is the Metalac hazena section, hazena being a game similar to handball that was the most popular women's team sport in this region in the 1930s.
The Metalac hazena section was lead by the union organizer Dragica Končar. A report from the general meeting held in 1937 shows that the 'reservoir of the willingness to fight' was necessary for the work from within, between comrades."The section did not have a sports hall, and lost many members due to that; on the day of the general meeting, only eight members were present. Dragica criticized certain members saying they were not being supportive enough of women's sport, and that it might be the cause for the team to cease their activity in the near future", the report states.
Various other women's sections developed in Metalac later on, but the soccer section never existed, neither in Metalac, nor in other sports collectives in Trešnjevka. However, it doesn't mean there was no women's labor in soccer. The booklet issued on the occasion of the 30th anniversary od the SD Trešnjevka (1926 – 1956), mentions the wife of the soccer club NK Trešnjevka kit manager Đuka Prpić, Julka Prpić. ''Many hundreds of dresses and socks have passed through her hands. She already knows the color of the Šibenik and Odred fields, having washed many stained soccer players' kits. Besides that, she always prepares tea, and sometimes even sandwiches for her big family of players'', the booklet says on Julka.
Photographs of workers in sports, like Julka, are usually impossible to find in archives, because they rarely caught the attention of the camera. That is why her image, visible on the tour poster, is produced by the imagination of the illustrator Ena Jurov. Prime sports workers also faded into oblivion: these were players of clubs that made Trešenjevka famous, such as the basketball club known as Industromontaža, Jugomontaža, and Monting. "When we talk about female basketball players, we should not forget names from the times when titles were only prepared. Let us mention, on this occasion, already forgotten names: Ankica Tortić, Ivka Tortić, Marija Barundić, Hermina Lisjak, Nada Kiš, Nada Marof, Mira Kupec, Zlata Plesničar, who were among first to put on a green jersey. Monting female basketball players were multiple champions of Yugoslavia who won the European Cup in 1980. Their second home was the famous Matchbox, a sports hall, where they socialized with female handball players who played for Trešnjevka and Lokomotiva clubs.
Many sportswomen kept in touch with Trešnjevka 's sports even after their sports careers ended. Nada Vučković, Lokomotiva player, worked as a PE teacher in the August Šenoa elementary school. Lidija Sertić, who was a pupil in that school, wrote an essay called ''Go Girls'', which was published in the paper Naš polet in 1966/'67. She states that they train hard and often, but with their teacher's support, even getting up early is something to look forward to. ''We often wish to feel that pre-game nervousness and to hear a voice leading us through the field'', concludes Sertić.
All this, and much more, that cannot fit into one walk, or one text, is Trešnjevka's women's sport. From those who washed sports uniforms, organized factory workers, and refused to join the fascists, to those who won European titles, taught in schools, to schoolgirls shooting a handball.
IVANA PERIĆ
ORGANIZERS: BLOK - Lokalna baza za osvježavanje kulture and CeKaTe - Trešnjevka Cultural Center
TOUR AUTHORS: Ivana Perić and Vanja Radovanović
TEXTS AUTHORS: Ivana Perić, Vanja Radovanović, and Ana Kutleša
ILLUSTRATION: Ena Jurov
DESIGN: Zoran Đukić, Hrvoje Živčić, and Neva Zidić
PHOTO: Luka Pešun
"INVISIBLE PLAYERS: WOMEN'S SPORT IN TREŠNJEVKA" IS CO-FINANCED BY THE FUNDS PROVIDED BY THE CITY OF ZAGREB.