TREŠNJEVKA NEIGHBOURHOOD MUSEUM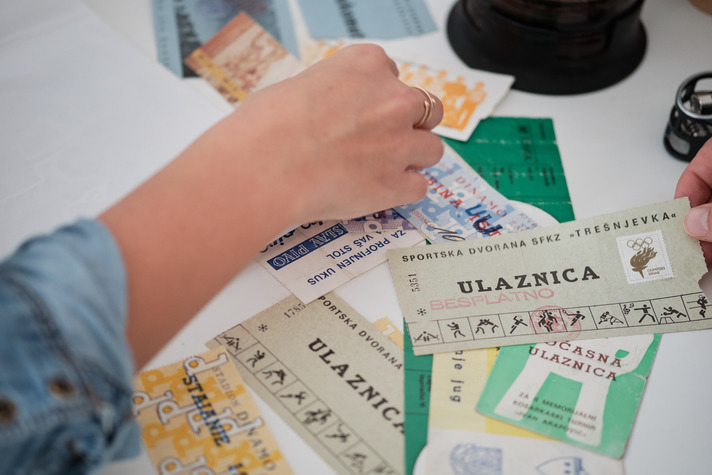 THE TREŠNJEVKA NEIGHBORHOOD MUSEUM is a project that we have run since 2018, with the goal of establishing a hybrid neighborhood institution where "its engine and purpose is the community, and the coexistence of men with their environment its foundation." It is inspired by similar institutions one finds in poor working-class areas worldwide, in which the official, national, and imperialist white culture has bypassed oppressed communities and their needs. In the post-socialist context, over the past three decades, historical narratives as well as museum exhibition programs have systematically evaded themes related to workers' struggle, socialist revolution, and building of socialist society. Since Trešnjevka is known for its rich working class history, we have started an initiative for revalorization and historization of its heritage, in cooperation with the local community.
Through THE TREŠNJEVKA NEIGHBORHOOD MUSEUM we work on setting up a neighborhood museum based on democratic principles of representation and mediation of its history, which will be open to all residents. We are building the future museum together with the community, through field research of Trešnjevka and continuous growth of its virtual collection, as well as through public arts and culture programs that focus on the local history and activate neighborhood's residents.
https://www.muzejsusjedstvatresnjevka.org/
TREŠNJEVKA NEIGHBOURHOOD MUSEUM – BUILDING FROM BOTTOM UP
COLLABORATIVE PROJECT
1. 12. 2018. - 30. 11. 2020.
We have conducted "Trešnjevka Neighbourhood Museum - building from bottom up" project from 2018 to 2020 together with our partners Centre for Peace Studies, K-zone, SF:ius and the Technical Museum Nikola Tesla. This phase represents the first step in building a neighbourhood museum, which we will continue through new projects and programs.
GOAL: establish the foundations for the creation of a multi and interdisciplinary neighbourhood museum designed according to the principles of participatory management in culture in a way that the inclusion of citizens is integrated into the very model of functioning and sphere of activity.
RESULTS: a draft of the model of the Trešnjevka Neighbourhood Museum has been designed and published ; website with virtual holdings created through the participation of the neighbourhood has been launched; 4 thematic researches of the district have been conducted through workshops, tours and marking of local historical sites with the neighbourhood.
WEB: https://www.muzejsusjedstvatresnjevka.org/
PROJECT DEVELOPER: [BLOK]
PARTNERS: Centre for Peace Studies, K-zone, SF:ius and the Technical Museum Nikola Tesla
PROJECT CREATORS: Ana Kutleša, Ivana Hanaček, Vesna Vuković
COORDINATORS: Dunja Kučinac, Barbara Gregov
FINANCIAL COORDINATOR: Jelena Božić
ASSOCIATES: Iva Zenzerović Šloser, Lovorka Šošić, Kosjenka Laszlo Klemar, Tihana Bertek, Marino Čajdo, Ena Grabar, Josipa Lulić, Krešimir Zovak, Tomislav Augustinčić, Damir Žižić, Mirna Horvat, Vedran Družina, Ana Dana Beroš, Hrvoje Živčić i Zoran Đukić, Sara Morić, Tjaša Kalkan, Srđan Kovačević, Slobodna domena
PROJECT VISUAL IDENTITY: Hrvoje Živčić i Zoran Đukić
PROJECT IMPLEMENTATION: 1.12. 2018. - 30.11.2020.
THE PROJECT WAS CO-FINANCED BY THE EUROPEAN UNION FROM THE EUROPEAN SOCIAL FUND.
TOTAL PROJECT VALUE: 790.911,69 HRK (EU FINANCING: 672.274,94 HRK)
CONTACT PERSON: Dunja Kučinac (blok@blok.hr)