INVISIBLE PLAYERS: MURAL "FOOTBALL TO THE PEOPLE, FOOTBALL TO WOMEN"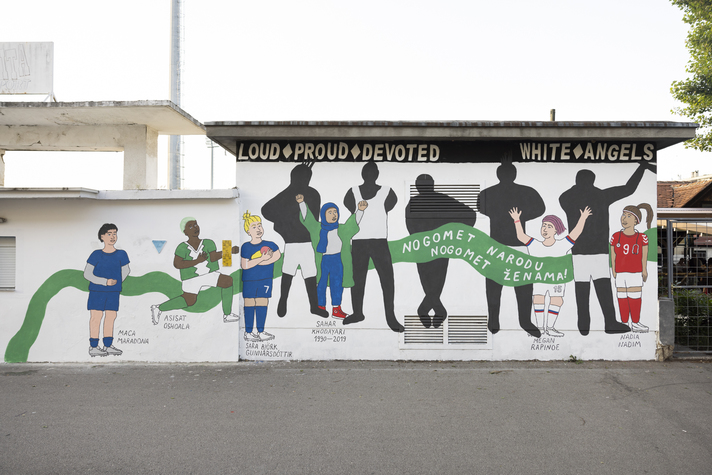 INVISIBLE PLAYERS: WOMEN'S SPORT IN TREŠNJEVKA
MURAL "FOOTBALL TO THE PEOPLE, FOOTBALL TO WOMEN" AT THE STADIUM IN KRANJČEVIĆEVA STREET
ARTIST: Ena Jurov
DESIGNED BY: Ivana Perić, Ena Jurov and [BLOK]
We recently took you on a walk through Trešnjevka dedicated to ''invisible players'' and women's sport in the neighborhood. For that occasion, Ena Jurov created a mural on the ''Matchbox'' sports hall, representing Trešnjevka's forgotten female players and sport workers. The second mural has just been completed in collaboration with the journalist Ivana Perić – women have joined the legendary White Angels fan mural at the Kranjčevićeva stadium!
Although there weren't any women's sections in football collectives in Trešnjevka, it does not mean there was no women's labor in them, especially behind the scenes. Women are pioneers of the Kranjčevićeva stadium – a hundred years ago Concordia's women's team played hazena there; the same team that won the first world title of any Yugoslav sports team in history, in London, 1934. Hazena players encouraged women's football: in 1938 the Women's Football Association was established in Zagreb; however, their proposal for setting up rules for organizing women's football was refused by the Ministry of Physical Education, followed by an explanation that ''football is not for women''. It wasn't until 30 years after that, in the 1970s, that there was another attempt to organize women's football in the region.
Women have, therefore, always been present in sports, just as they have always been banned from it. With this mural we are symbolically including them in the space of absence – belonging to different generations, countries, and in different roles. From left to right, the mural features great sportswomen. Maca Maradona, the female football player with most trophies in Yugoslavia, a Duga Resa and Zagreb legend, who has not yet received public recognition in this country, not to mention the deserved pension. Asisat Oshoala, one of the greatest Nigerian, African, and global footballers of all time. Sara Björk Gunnarsdottir from Iceland, who took the French football club Lyon to court, forcing it to pay her the salary she did not receive when pregnant. Sahar Khodayari, a football fan known as the ''blue girl'' (blue being the color of Esteghlal, a club from Tehran who she supported), who died in 2019. Khodayari set herself on fire due to facing prison for trying to enter a football stadium disguised as a man. One month after her death, more than three thousand women attended a football match for the first time after forty years. Megan Rapinoe, American football player and LGBTIQ pioneer activist. Nadia Nadim, a refugee from Afghanistan, who became one of the best European football players and a surgeon in Denmark.
''Football to the people!'' is a cry we've been hearing more and more lately, and at first it sounds progressive – as a research of history that encompasses all stories and experiences, and as a call to build a future that will hold sports infrastructure, time, and opportunities for everyone. However, even within the ''Football to the people'' discourse, women often end up sidelined, treated as footnotes.
THAT IS WHY HERE WE EMPHASIZE, POINT OUT, SHOUTING FROM THE WALLS, COMING FROM OUR LIPS – FOOTBALL TO THE PEOPLE, FOOTBALL TO WOMEN!
IVANA PERIĆ
PHOTO: Luka Pešun
MURAL IS CREATED WITHIN THE PROJECT "INVISIBLE PLAYERS: WOMEN'S SPORT IN TREŠNJEVKA", CARRIED OUT BY BLOK - LOKALNA BAZA ZA OSVJEŽAVANJE KULTURE, TOGETHER WITH THE TREŠNJEVKA CULTURAL CENTRE (CEKATE), AND IS CO-FINANCED BY THE FUNDS PROVIDED BY THE CITY OF ZAGREB.