COLLECTING MATERIAL FOR THE TREŠNJEVKA NEIGHBORHOOD MUSEUM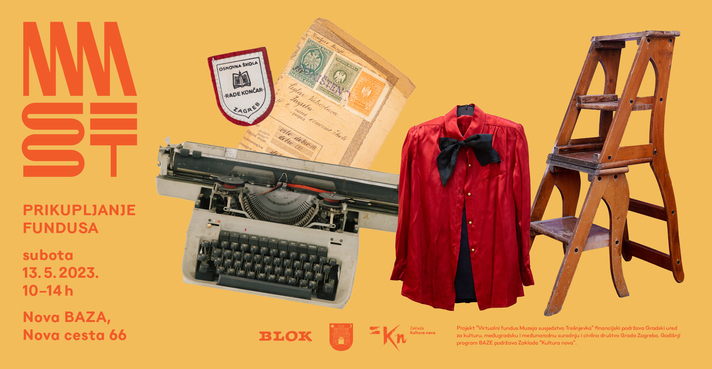 SATURDAY, 13 MAY 2023, 10:00-14:00
NOVA BAZA, NOVA CESTA 66
Dear neighbors,
we invite you to share with us your memories from the neighborhood! Do you have old photographs from school, sports hall, scout team, park, workplace in one of Trešnjevka's factories, coffee shops or stores? Do you still keep your Šimecki shoes, Končar household appliances, Vesna dresses? Would you like your memories to be part of the virtual collection of the neighborhood history, which already contains more than 400 objects and stories shared by our and your neighbors? We invite you to bring your contributions and help us further build our neighborhood museum, which will give value to stories that are not part of the official history.
Come to NOVA BAZA (NOVA CESTA 66) on Saturday, May 13 from 10 A.M. to 2 P.M.
We will record your stories, digitize your artefacts and return them to you immidiately.
Take a look at our collection and find more information at: WWW.MUZEJSUSJEDSTVATRESNJEVKA.ORG
For all additional questions, contact us at BLOK@BLOK.HR or via FACEBOOK.
DESIGN: Neva Zidić, Zoran Đukić and Hrvoje Živčić
PHOTO: Luka Pešun
"THE TREŠNJEVKA NEIGHBORHOOD MUSEUM VIRTUAL COLLECTION" PROJECT IS FINANCIALLY SUPPORTED BY THE CITY OFFICE FOR CULTURE, INTERCITY, AND INTERNATIONAL COOPERATION AND CIVIL SOCIETY, CITY OF ZAGREB. BAZA'S ANNUAL PROGRAM IS SUPPORTED BY THE ''KULTURA NOVA'' FOUNDATION.