PAPER THAT HEALS: PAPER COLLAGE AND WORDS (ART AND LITERATURE WORKSHOP)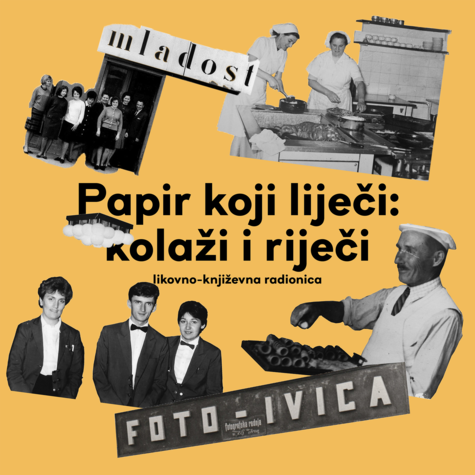 APRIL 27 — MAY 25, 2022
ON WEDNESDAYS, AT 6 P.M.
CONCEPT AND GUIDANCE: BOŽENA KONČIĆ BADURINA AND OLJA SAVIČEVIĆ IVANČEVIĆ
NOVA BAZA, NOVA CESTA 66
This workshop, completely free of charge, is intended for people of all ages, and at all levels of experience in creative writing and artistic expression, and especially for those who have not had the opportunity to participate in any kind of art education. We will meet five times for two and a half hours to look into ''the healing power of paper'', in other words, we will be working on short prose forms, poetry, and the paper collage technique. Our starting point will be working conditions of the workshop participants' and workers we meet, as well as the experience of the working-class past, preserved in the virtual Trešnjevka Neighborhood Museum.
The Trešnjevka Neighborhood Museum is a continuous program launched by BLOK, whose goal is to re-evaluate heritage of the Trešnjevka neighborhood by building a virtual fund in cooperation with the local community, as well as to democratize cultural production by organizing cultural and artistic content in the neighborhood. This workshop is part of the multiannual project by the visual artist Božena Končić Badurina, who is researching everyday life of the neighborhood working class in the past and today. The point of departure of her research was August Cesarec, whose short stories depicted harsh everyday life of the urban periphery in the interwar period, and who was the shadow editor of the Voice of Trešnjevka, a newspaper, which, besides covering municipal problems and current political events, published literary works written by workers. In order to revive Cesarec's legacy, Končić Badurina joins forces with the writer Olja Savičević Ivančević, with whom she already collaborated last year in the workshop ''Mountains of Bread, Pretzels of Mud''. In this year's workshop, they will combine literary and artistic expression and explore their therapeutic potential, since today, as well as in Cesarec's times, the ways in which we earn our daily bread are often a source of anxiety, frustration, and discomfort.
Applications should be sent to BLOK@BLOK.HR by APRIL 25, 2022 at the latest, containing the following data: name, last name, date of birth, and a short motivation letter (a few sentences), in which you can state your current occupation and describe your experience with creative expression up until now. The workshop is open for all inhabitants of Zagreb (connection with Trešnjevka is not a condition). The number of participants is limited, and you will receive information about participation via email.
MAIN VISUAL: Zoran Đukić and Hrvoje Živčić
THIS PROJECT IS SUPPORTED BY THE SOLIDARNA FOUNDATION AND THE FUND FOR OTHERS THROUGH THE KRIK (CRISIS AND CREATIVITY) PROGRAM. THE WORKSHOP IS PART OF THE "TREŠNJEVKA NEIGHBORHOOD MUSEUM – LIVING HERITAGE" PROJECT, AND IT IS FINANCIALLY SUPPORTED BY THE CITY OF ZAGREB AND THE MINISTRY OF CULTURE AND MEDIA OF THE REPUBLIC OF CROATIA. BAZA'S ANNUAL PROGRAM IS SUPPORTED BY THE "KULTURA NOVA" FOUNDATION.